We are delighted to announce that Evergreen Primary School is a Good School!
Welcome
Evergreen Primary School  is the result of dedication and hard work  from a young mother who carried a vision of creating a safe and secure learning environment, that will consist of highly qualified members of staff who will pursue the goal of bringing up the next generation of young children with a good balanced teaching of  both the National Curriculum and the Islamic Curriculum with  high standards.
Today the school continues to strive to be a welcoming centre of learning in which Islamic education is flourishing. Muslim values, principles and standards lie at the heart of our education alongside a strong recognition of world faiths and the multicultural society in which we live in.
Our Vision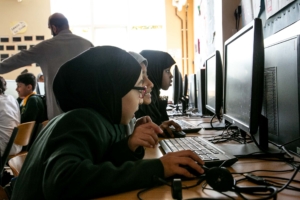 Our vision is to develop a Muslim generation capable of analytical and critical thinking who become Muslims by conviction and who will strive to fulfil their role positively and proudly in multicultural Britain alongside others.
Our excellent facilities and resources develop enjoyment and pleasure in learning and promote the personal development of our pupils both spiritually and socially to become well-rounded individuals who are able to make a valuable contribution to Society.
The School is committed to safeguarding and promoting the welfare of children and young people. In order to ensure this our recruitment and selection policy is in accordance with local and national guidelines