September 2020 School Opening – Important Information 
Welcome Back:
Dear Parent / Guardians / Carers
Alhamdulillaah – All praise and thanks be to Allaah, after a long and difficult testing time we are pleased to welcome all of you back to Evergreen Primary School for the new academic year 2020-21. 
While we are excited to get all our children back to school in September, safety remains our ultimate priority.
We have prepared a detailed guide to clarify our arrangements for this coming year while Covid-19 still remains a concern for all of us.
This guide can be read or downloaded from this link: EPS Re-opening of school Sep 2020
Please note the below details which clarify some essential information. Further details can be found in the Parents Welcome Pack 2020-21
We thank you for your support and Ask Allaah to grant you success – Aameen
Arrival time
Children must arrive to school by 8:25 allowing for a prompt 8:30 start
Dismissal times
Dismissal times will be staggered as follows:
EYFS: 15:25

 

Y1-2: 15:35
Y3-4: 15:40
Y5-6: 15:45
Please Note: Pick up times must be followed strictly to ensure social distancing guidance is being followed.
Parents must pickup and drop off outside the school. Social distancing must be observed at all times.
Early years parents will be allowed entry into the reception area subject to using the provided hand sanitiser.
Payment of school fees
We have allocated the following times for fee payments:
AM: 8:45 – 9:15
PM: 15:45 – 16:15
School Lunches and Salah
School lunches will begin from Monday 7th September 2020, Children will need to bring packed lunch on Thursday 3rd and Friday 4th September 2020.
School Uniforms
All children must be in full uniform,
Our uniform supplier to come to our school on Friday 4th September. They will be at school from 2pm – 3:30. So you can purchase any outstanding uniform items.
Alternatively you can buy the uniform from the shop below:
Ocean designs
10 Watney Market
E1 2PR
0207 702 8881
Welcome
Evergreen Primary School  is the result of dedication and hard work  from a young mother who carried a vision of creating a safe and secure learning environment, that will consist of highly qualified members of staff who will pursue the goal of bringing up the next generation of young children with a good balanced teaching of  both the National Curriculum and the Islamic Curriculum with  high standards.
Today the school continues to strive to be a welcoming centre of learning in which Islamic education is flourishing. Muslim values, principles and standards lie at the heart of our education alongside a strong recognition of world faiths and the multicultural society in which we live in.
Our Vision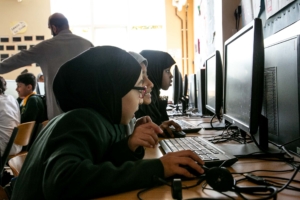 Our vision is to develop a Muslim generation capable of analytical and critical thinking who become Muslims by conviction and who will strive to fulfil their role positively and proudly in multicultural Britain alongside others.
Our excellent facilities and resources develop enjoyment and pleasure in learning and promote the personal development of our pupils both spiritually and socially to become well-rounded individuals who are able to make a valuable contribution to Society.
The School is committed to safeguarding and promoting the welfare of children and young people. In order to ensure this our recruitment and selection policy is in accordance with local and national guidelines
For the latest school information, please check our news page.
AEC v1.0.4