1st July School Opening – Important Information 
School starts at 9:00am for all classes
Dismissal / pick-up times will be staggered as follows:
Pickup timings
EYFS: 14:40
Y1-2: 14:50
Y3-6: 15:00
Please Note: Pick up times must be followed strictly to ensure social distancing guidance is being followed.
Parents must pickup and drop off outside the school. Social distancing must be observed at all times.
Early years parents will be allowed entry into the reception area subject to using the provided hand sanitiser.
Payment of school fees
We have allocated the following times for fee payments:
AM: 9:30 – 10:00
PM: 15:15 – 16:00
School Lunches and Salah
School lunches will not be provided during the month of July. Children must bring a healthy packed lunch on a daily basis. Additionally please provide your child with water and fruit to bring to school. The fruit must be in a sealed plastic bag or airtight container.
School Uniforms
There will be no school uniform required for July. Please make sure your child wears a fresh set of clothing each day.
COVID-19 Safety Measures
YOU MUST report any symptoms or positive test results to the school immediately and action isolation.
Welcome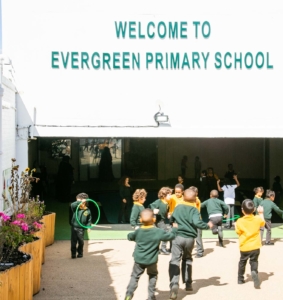 Evergreen Primary School  is the result of dedication and hard work  from a young mother who carried a vision of creating a safe and secure learning environment, that will consist of highly qualified members of staff who will pursue the goal of bringing up the next generation of young children with a good balanced teaching of  both the National Curriculum and the Islamic Curriculum with  high standards.
Today the school continues to strive to be a welcoming centre of learning in which Islamic education is flourishing. Muslim values, principles and standards lie at the heart of our education alongside a strong recognition of world faiths and the multicultural society in which we live in.
Our Vision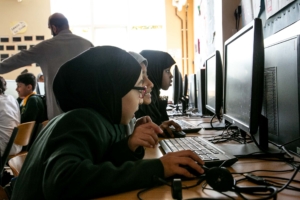 Our vision is to develop a Muslim generation capable of analytical and critical thinking who become Muslims by conviction and who will strive to fulfil their role positively and proudly in multicultural Britain alongside others.
Our excellent facilities and resources develop enjoyment and pleasure in learning and promote the personal development of our pupils both spiritually and socially to become well-rounded individuals who are able to make a valuable contribution to Society.
The School is committed to safeguarding and promoting the welfare of children and young people. In order to ensure this our recruitment and selection policy is in accordance with local and national guidelines
For the latest school information, please check our news page.
AEC v1.0.4